Cash For Cars Brisbane UpTo $8999 Any Vehicle Type
At Flash Cash for Cars, we pay the highest amount of cash for second-hand cars, unwanted cars, scrap cars or any other vehicles up to $8999. This is including free collection of the cars.
We buy cars for cash, cars can be of any make or model and could be in any condition. Flash Cash for Cars is Brisbane's most reliable car buyer. We are the best car removal service that makes the process of selling your car fast and easy. While your vehicle might not be an asset anymore, you can get some good recovered cost when you give Flash Cash for Cars a call:  0431 313 100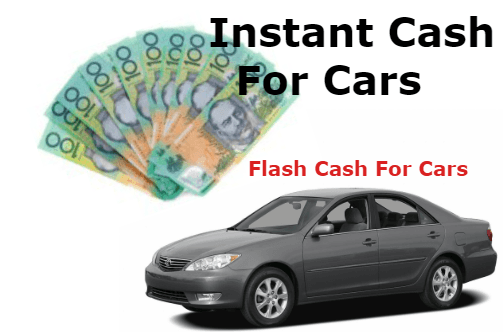 Buying vehicles of all Types up to $8999 Paid Instantly
We buy vehicles of all types for up to $8999  instant cash. Just with the word 'sold', we can decide on an appointment according to your convenience. As soon as you say 'Yes', we will be on our way like a speed ball to remove your vehicle with the cash payment in our hands. Tempting offer? Give us a call and we'll make you your very own tempting offer. Call us at 0431 313 100

We currently deal with a huge number of cars every day for the services mentioned below:
Cash for Your Car Up To $8999 on the Spot
Car Removals Brisbane Wide
Car Disposal
Cash for Old Cars
Any Car, Truck, Van, Ute, 4WD, SUV
Brisbane Cash for Cars Instantly
Fully Licensed Car Buyers in Brisbane
We are fully licensed car buyers and wreckers in Brisbane. We offer a great price for every single car seller that calls us. Have a car that barely moves? No longer operational, or damaged beyond repair? It can be used as a second-hand vehicle, or as a scrap car for metal! Flash Cash for Cars is ready to buy it for instant cash up to $8999 on the same day. The pickup of the car or the vehicle is free of cost and can be scheduled to happen on the same day!
Flash Cash for Cars Deals with a Wide Range of Cars daily like:
Ford
Mazda
Isuzu
Nissan
Honda
BMW
Suzuki
Subaru
Audi
Alfa Romeo
Aston Martin
Jaguar
Lexus
Mitsubishi
Skoda
Kia
Hyundai
Holden
The above list doesn't mention your car? This is just a list of examples! So, don't worry and give us a call to check with us! We buy cars irrespective their make, model, condition or state! Our cash for cars offers to reach up to $8999 that is paid INSTANTLY in cash or through your bank account.
Sell My Car for Cash Today
Flash Cash for Cars is buying your unwanted vehicle fast and remove it from your property same day. We are professionals and have thorough knowledge to buy any kind of vehicle for up to $8999. The information you provide to us determines the value of the car such as year made, Model, condition and location of pick up. If you're selling a car in Sydney, then call Sydney Car Buyer for best rates.


Contact Flash Cash for Cars Brisbane for Free Towing of Accident Cars
You Get Free Towing! If you want to get your car towed away from somewhere, but have no use for it later, why pay for it? Just call Flash Cash for Cars, and get your car towed away for free!
When you give us a call on our phone, we make sure we arrive as soon as possible without any delay. To call ourselves the 'lightning fast car buyers', wouldn't be inappropriate because we can reach your location in as early as half an hour if you're not too far away from us. We are like a flash, we come and go as quickly as possible! We will get to your location as soon as you call us. So just give us a call and get a chance to see our Flash service! If the vehicle remains within Brisbane and its suburbs, we can come and collect it within a day! We also alternatively give you the option of scheduling a pick up according to your availability. We don't believe in wasting our time, and we would hate to keep our customers waiting!
Contact Us Now!
When you are ready to sell your unwanted vehicle, give Flash Cash for Cars a call. If you aren't ready, call us anyway and have a chit-chat with our customer service team. They might be able to give you some assistance regarding the potential amount you might get for your car. We are car buyers in Brisbane and we buy scrap, used, junk and accident vehicles of any make and condition.
You should also stay assured that you can count on us to keep the towing fee to its minimum., FREE for ever. Just give us a call or complete our "Get a Quote" form located on this page, and we'll give you a call within 2 minutes for the best cash offer for your car in all of Brisbane. Call us on 0431 313 100 NOW!